Robotic surgery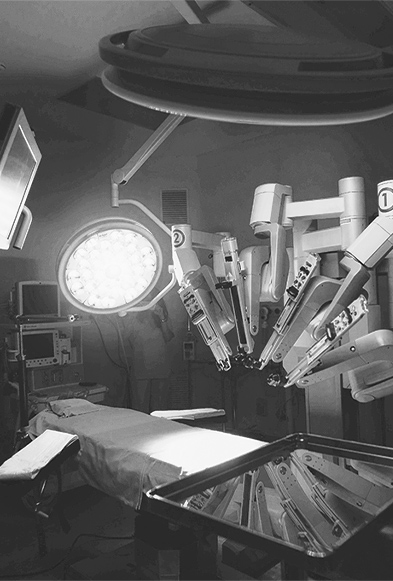 Robotic surgery

- High tech
- Large-scale interventions through small incisions
- Fast recovery after surgery

Plastic surgery

- A team of highly qualified specialists
- All types of plastic surgery
- Individual approach

Arthroscopy

- Gentle and minimally invasive procedure
- Quick rehabilitation
- Competence Center for Traumatology and Orthopedics

Joint replacement surgery

- We use high-quality biocompatible prosthetic implants, individually select them and carry out a multi-stage control of their suitability for a particular patient
- We offer treatment in a comfortable, equipped hospital in the center of Moscow
- We perform all necessary tests in our own laboratory

Postoperative mammoplasty

- Precise disease staging
- Minimally invasive procedures
- Early rehabilitation and rapid recovery

Orthokine therapy

- One of the few methods that affects the mechanisms of arthritis development and inhibits progression of the disease
- Performed with the use of safe serum obtained from the patient's biomaterial
- The therapy has a quick effect - most patients notice the effect after first procedure

Center of Endovascular Surgery

- Endovascular Surgery
- Surgeries are Performed by World-Class Experts
- Advanced Surgery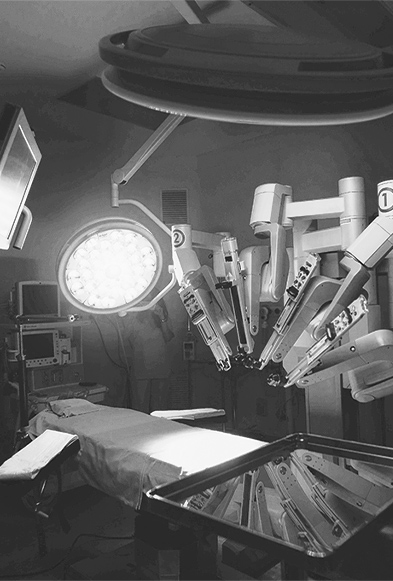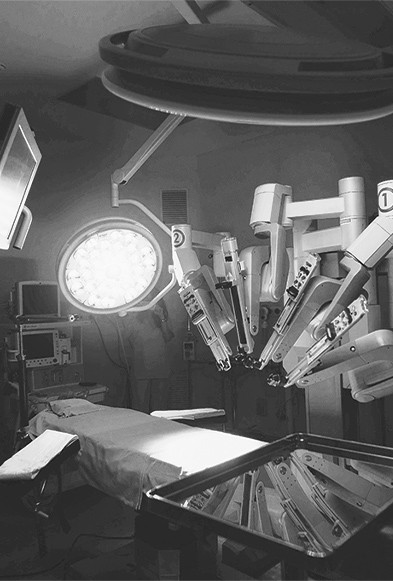 Modern equipped operating theaters are a normal practice for any good medical center. We are a step ahead of the rest: surgeries in the Clinical Diagnostic Center MEDSI on Krasnaya Presnya are performed using the unique Da Vinci robot-assisted surgical system.
Robot-assisted surgery in MEDSI is complex manipulations through small incisions, minimal invasiveness, reduced risk of postoperative complications, and quick recovery after the intervention.
da Vinci Surgical System
Before its creation, medical engineers tested about 2,000 less successful models. State-of-the-art da Vinci robotic surgical system is a high-tech result of 30 years of work with the participation of hundreds of specialists. This system is available in only a few hundred clinics worldwide, and MEDSI is one of the only owners of this system in Russia.
The device system of the surgical console, where the surgeon is located, and the operative part, patient's cart, which directly performs surgical manipulations.
The operative part has four "hands": one keeps video recording the surgery, the other two function as the arms of the first surgeon and carry out main manipulations, the latter one serves as an assistant (for example, "responds" to expansion and retention of the wound edges).
Use
The da Vinci robot-assisted system is successfully used in:
General Surgery
ENT surgery
Thoracic Surgery
Colorectal surgery
Gynecology
Urology and oncological urology
All disorders from the listed areas that require surgery are successfully treated using robotic surgery.
List of surgeries performed:
Robot-assisted adrenalectomy, adrenal resection
Robot-assisted nephrectomy, kidney resection
Robot-assisted splenectomy
Robot-assisted distal pancreatic resection
Robot-assisted longitudinal gastric resection
Robot-assisted Nissen fundoplication
Robot-assisted liver resection
Robot-assisted bowel resection;
Robot-assisted thyroidectomy
Robot-assisted hemithyroidectomy
Robot-assisted promontofixation using a prolene mesh: uterus, vagina; or cervical or vaginal stump
Robot-assisted myomectomy
Robot-assisted hysterectomy with appendages and pelvic lymph node dissection
Robot-assisted adenomectomy (Millin surgery) in BPH
Robot-assisted nephropexy
Robot-assisted standard kidney cyst resection
Robot-assisted radical prostatectomy (non-neuroprotective)
Robot-assisted radical prostatectomy (neuroprotective)
Robotic-assisted radical prostatectomy (neuroprotective, with intrafascial)
Robot-assisted kidney resection
Robot-assisted kidney resection with warm ischemia
Robot-assisted standard nephrectomy
Robot-assisted radical nephrectomy
Robot-assisted plastic surgery of ureteropelvic junction
Robot-assisted reconstruction of ureteropelvic junction
Robot-assisted ureterocystoneostomy
Robot-assisted psoas hitch
Robot-assisted ureteral reimplantation with Boari flap
Robot-assisted entero-ureteroplasty
Robot-assisted cystectomy
Robot-assisted orthotopic plastic of the urinary bladder
Robot-assisted non-continent urinary diversion (Bricker procedure)
Robot-assisted ureterolithotomy
Robot assisted pyelolithotomy
Robot-assisted sacrocolpopexy
Robot-assisted bladder resection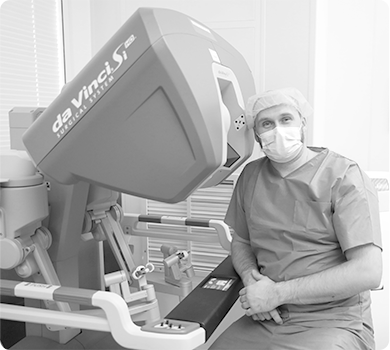 How is a robot-assisted surgery performed?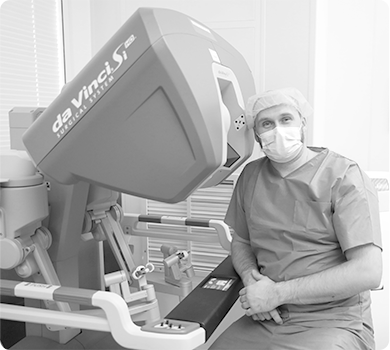 The patient undergoes investigations, indications for surgery are determined and the intervention technique is selected. After that the patient is prepped for the surgery, brought into the operating room and anesthetized.
The operative part of the robot is located directly near the operating table. The robot performs all the "orders" received from the surgical console with the highest precision, which ensures the utmost accuracy and technicality of all stages of the intervention. The system is managed by a highly skilled surgeon who is also in the operating room. The patient's condition during the operation is continuously monitored by an anesthesiologist.
After completion of the surgery, the patient spends a day in intensive care unit and then he is transferred to a regular hospital ward until discharge.
Benefits of robot-assisted surgery in MEDSI
MEDSI is one of the few Russian clinics that use the possibilities of robot-assisted surgery.
Surgeons that use da Vinci system received special training on robot-assisted surgery on simulators and continuously maintain their high qualifications
Patients operated on with da Vinci have minimal chance of postoperative complications due to high precision of manipulations. The "arms" of the robot (EndoWrist tools) make small movements with 5 times higher precision than human hand
After robot-assisted surgeries, patients recover extremely fast, which is facilitated by minimal invasiveness of such interventions:

InSite video fixation system, unlike surgeon's eye, "sees" elements in the depth of the wound, in the lumen of hollow organs and inside the patient's body cavities. This allows to precisely plan individual actions and stages, conduct large-scale interventions through 1-2 cm cuts
Robot tools are thinner than human hand, which allows to avoid additional injury to the tissues during the surgery, reduces postoperative pain and painkillers requirement during the recovery phase
In MEDSI, we use Fast Track Surgery principle. Our goal is to provide a patient with the highest quality medical services for their speedy recovery. Robotic surgery helps our patients to heal effectively and return quickly to their normal lives.
Price
| | |
| --- | --- |
| Prostatectomy | 8 600€ / 10 000$ (avg cost, all inclusive) |
To learn more about the possibilities of robotic surgery or make an appointment with a surgeon, please call: +7 (495) 780-77-54.