Center of Endovascular Surgery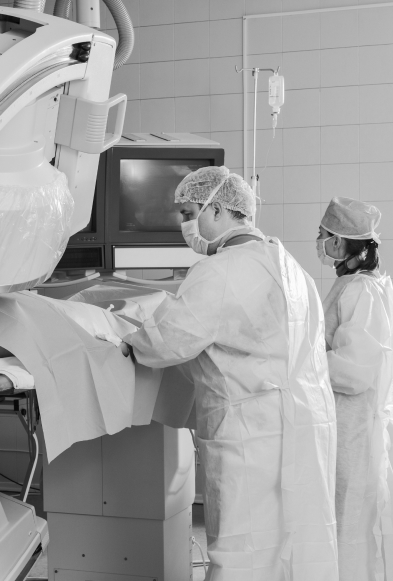 Robotic surgery

- High tech
- Large-scale interventions through small incisions
- Fast recovery after surgery

Plastic surgery

- A team of highly qualified specialists
- All types of plastic surgery
- Individual approach

Arthroscopy

- Gentle and minimally invasive procedure
- Quick rehabilitation
- Competence Center for Traumatology and Orthopedics

Joint replacement surgery

- We use high-quality biocompatible prosthetic implants, individually select them and carry out a multi-stage control of their suitability for a particular patient
- We offer treatment in a comfortable, equipped hospital in the center of Moscow
- We perform all necessary tests in our own laboratory

Postoperative mammoplasty

- Precise disease staging
- Minimally invasive procedures
- Early rehabilitation and rapid recovery

Orthokine therapy

- One of the few methods that affects the mechanisms of arthritis development and inhibits progression of the disease
- Performed with the use of safe serum obtained from the patient's biomaterial
- The therapy has a quick effect - most patients notice the effect after first procedure

Center of Endovascular Surgery

- Endovascular Surgery
- Surgeries are Performed by World-Class Experts
- Advanced Surgery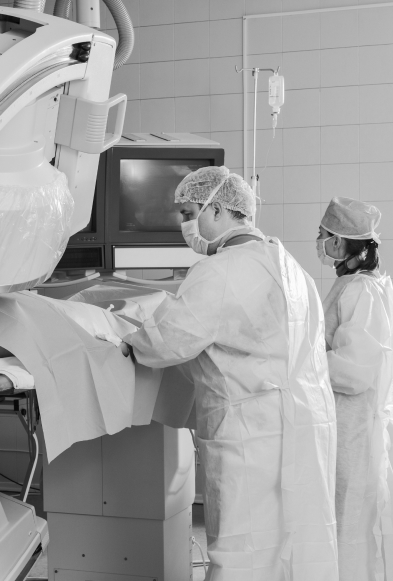 The Center performs:
Angiographic and diagnostic procedures:
Angiography of arteries of upper and lower limbs
Aortography of any anatomical region
Coronary angiography, shuntography, and ventriculography
Angiography of visceral arteries
Angiography of extra- and intracranial arteries
Intravascular ultrasound (IVUS)
Optical coherence tomography (OCT)
Fractional flow reserve (FFR) measurement
Interventions include:
Coronary artery stenting for coronary artery disease
Transcatheter aortic valve replacement
Stenting of peripheral (carotid, subclavian, renal, iliac, femoral) arteries
Uterine artery embolization for uterine myoma and prostate arteries for prostatic hyperplasia
Stenting of central veins stenoses of various etiologies
Endovascular treatment of aneurysms of different arteries (splenic, iliac, etc.)
Interventions on calf arteries for peripheral arterial disease
Inferior vena cava filter placement
Placement of aortic endoprostheses for aneurysms of different locations (including the abdominal aorta)
Endovascular repair of congenital heart defects (closure of interatrial or interventricular septum defects and paravalvular fistulas, aortic coarctation repair, etc.)
Consumables from Leading Manufacturers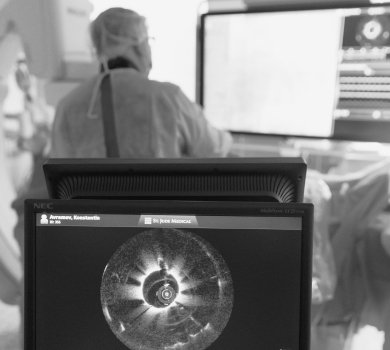 We use catheters, sensors, stents, and materials for embolization from the best companies of the following countries:
United States of America
Japan
The Netherlands
Italy
Israel
Coronary Heart Disease
Coronary heart disease (CHD) is a pathological condition when the blood supply to the myocardium is impaired. In most cases, CHD is related to atherosclerotic narrowing of the coronary arteries which develops gradually without symptoms. Initially, patients do not pay attention to alarming symptoms, but over time they intensify and may cause serious complications. The common CHD presentations include heaviness or burning sensation in the chest, "dull" retrosternal pain radiating to the lower jaw and left arm, shortness of breath during physical activity or even at rest.
Diagnosis and Management of CHD
Non-invasive methods (electrocardiography, echocardiography, stress tests, etc.) and coronary angiography are used to diagnose CHD. Currently, this diagnostic tool is considered the "gold" standard for the evaluation of vascular supply. A stent may be placed immediately if coronary angiography reveals a narrowing of the coronary artery. Stents are metal mesh-like structures expanding in the lumen of a narrowed vessel when deployed.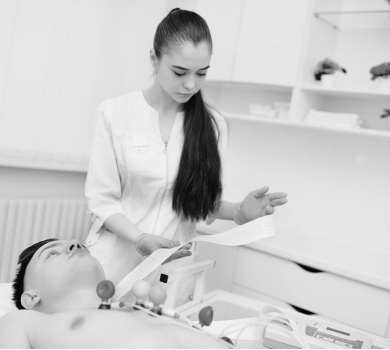 Today, stenting of narrowed coronary arteries, if technically feasible, is the most preferable and safest treatment option. No incisions are made since the intervention is performed through an access point 2–3 mm in diameter located in the wrist and/or groin. Stent placement does not require a lengthy stay in the hospital and enables patients to resume everyday activities and work as soon as possible, usually in 2–3 days.
The patient should remember the symptoms of acute myocardial ischemia and call an ambulance immediately if they occur. Symptoms of myocardial infarction include pain persisting for 10–15 minutes and radiating in the left or both arms and lower jaw, a feeling of tightness in the chest, shortness of breath, cold sweating, and fatigue.
Endovascular Surgery
 For diagnosis and treatment, we use:
A state-of-the-art FD20 AlluraClarity angiography system from Philips enabling high-quality imaging and surgery with minimal X-ray exposure
A VOLCANO s5i intravascular ultrasound (IVUS) system enabling to evaluate the lumen of the coronary artery, assess and optimize the outcomes of coronary stenting, measure intravascular coronary flow fractional reserve (FFR) at the diagnostic level
An ILUMIEN Optical Coherence Tomography (OCT) system for obtaining high-resolution images of vascular anatomy, tissue microstructure, and stents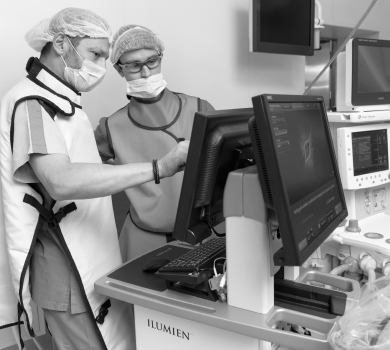 Surgeries are Performed by World-Class Experts
Aleksandr Grigoryevich Osiev, Doctor of Medical Sciences, Professor, MEDSI Chief Specialist in Endovascular Surgery, a world-renowned interventional cardiologist (endovascular surgeons) who performs interventions in European clinics and is a regular participant in conferences.
Advanced Surgery
The interventions are performed using minimally invasive technology and a radiation source (X-ray). No incisions are made, local anesthesia is administered in most cases, and the patient remains conscious. Faster rehabilitation, return to work and daily life in the shortest possible time. Modern equipment and quality consumables are available for specialists who work in a comfortable hospital.
Peripheral Arterial Disease  
Peripheral arterial disease is related to the impaired blood supply of the lower limbs commonly caused by atherosclerosis. Severe complications of this condition include tissue necrosis (gangrene) which can lead to life-threatening consequences.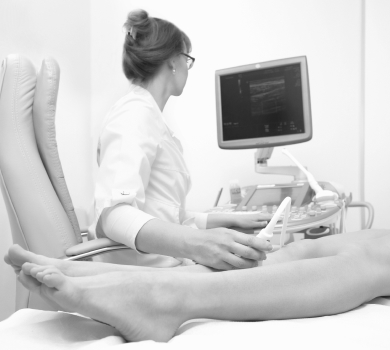 Symptoms
Symptoms of peripheral arterial disease include muscle pain in the lower limbs (sometimes in the gluteal muscle) when walking, numbness, and increased fatigue. In some cases, pains make patients stop to give rest to their legs. In males, this condition may be associated with erectile dysfunction.
Causes
The main causes of this pathology include:
Atherosclerosis, when cholesterol deposits in the arterial wall may partially or completely block the artery:
Thrombosis, when the artery is blocked by blood clots. A dangerous complication is an embolism when a clot that formed somewhere in the body breaks free and travels in the circulation from one place to another.
Endarteritis, pathology characterized by inflammation of the arterial wall and gradual narrowing of the lumen
Risk factors include smoking, elevated cholesterol levels, excessive weight, and diabetes mellitus.
Diagnosis and Management
The diagnosis is made by ultrasound scanning and computed tomography of the lower limb arteries with contrast enhancement.
The most effective and minimally traumatic treatment option for peripheral artery disease is balloon angioplasty with stent placement (metal structures that are deployed to expand the lumen of a narrowed vessel). The patient may report an improvement or resolution of symptoms (claudication) when walking as early as the next day after the intervention. Work activities can be resumed 3–4 days after the angioplasty.
Aortic Aneurysm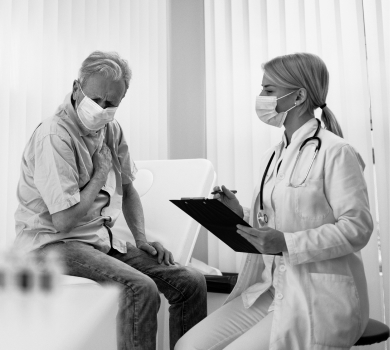 An aortic aneurysm is a local dilation of the major artery of the body occurring due to the loss of the elastic component in its wall. The dilation is initially asymptomatic, but when the symptoms occur they are mostly related to the location of the aneurysm. For example, the aneurysm may compress the surrounding tissues (e.g., bronchi).
In some cases, an aortic aneurysm may present with its rupture which often has catastrophic consequences.
Symptoms
The dilation may be initially asymptomatic, but when the symptoms occur they are mostly related to the location of the aneurysm.
The symptoms of an aneurysm of the abdominal aorta may include:
Digestive disorders (diarrhea and constipation)
A pulsating feeling in the belly
Weight loss
In some cases (large aneurysms), an aneurysm (a large pulsating mass) may be palpable in the umbilical region.
Symptoms of compression of the nerves and tissues by the dilated aorta may include:
Urinary tract disorders
Edema of the lower limbs
Attacks of severe pain
Paresis of the lower limb
Symptoms of an aneurism of the thoracic aorta include:
Chest and back pain (can radiate into the shoulders, neck, and even in the stomach)
Dry cough
Dyspnea
Painful swallowing
Hoarse voice
Aortic aneurysms located in the heart area are usually diagnosed only in a hospital setting.
Symptoms of cerebral aneurysm include:
Headaches
Discomfort in the eyeballs
Blurred vision
Sensory loss in the face
Causes
Aortic aneurysms may be acquired or congenital.
Aneurysms may be caused by:
Atherosclerosis
Injury
Various inflammatory processes (tuberculosis, syphilis, etc.), fungal and bacterial infections
Congenital aneurysms are related to various abnormalities of embryofetal development.
Predisposing factors to aneurysm formation include elevated cholesterol levels, smoking, and elevated blood pressure.
Diagnosis and Management
Ultrasound scanning and computed tomography with a contrast medium are used to clarify the diagnosis.
The safest and least traumatic treatment option is endovascular implantation of a stent-graft through a 5–6 mm puncture or a small incision (about 3 cm) in the groin. The stent-graft precludes the blood from entering into the aneurysm. It is attached to the arterial wall at the upper and lower margin of the aneurism thereby reducing the risk of subsequent rupture. This translates into a quick recovery from surgery and a return to full life in the shortest possible time.
Congenital Cardiac and Aortic Defects (Septal Defects, Aortic Coarctation)   
Congenital and acquired heart defects comprise a distinct group of cardiac diseases characterized by anomalies of the major vessels, septal and valvular defects, etc. Symptoms may range in severity from shortness of breath and fatigue to fainting episodes. In some cases, stroke may be the first presentation of a heart defect.
Symptoms
Many heart defects manifest immediately after birth. Based on the typical clinical features, neonatologists may request a detailed examination of the newborn. For example, congenital anomalies of the cardiac anatomy may cause disturbances related to increased blood flow and pressure in the pulmonary artery and lungs which predispose the child to infections.
The common symptoms of congenital and acquired heart defects include:
Shortness of breath, labored breathing
Fatigue
Cardiac rhythm disorders
Syncope
Dizziness
Poor tolerability of physical exertion
The condition and symptoms may deteriorate at adolescent age. Patients report irregular heart rate. Some patients have poor physical performance, with worsening dyspnea.
However, a different situation may occur when a person may not be aware of a heart defect, believing that fatigue or shortness of breath at physical exertion is normal in older age.
Causes
Scientists still cannot explain why congenital and acquired heart defects develop. Physicians can only speculate what factors cause this pathology.
Known risk factors of congenital heart defects include:
Relevant family medical history: If a close relative has had a congenital heart defect, there is a chance that the child will have it as well. When planning a pregnancy, families are advised to consult a specialist to determine the risk
Infectious diseases during pregnancy (e.g., rubella)
Exposure to medicinal products during pregnancy
Maternal alcohol abuse
Phenylketonuria and diabetes mellitus during pregnancy
Treatment
Endovascular treatment is a less traumatic and safer treatment option compared with open-heart surgery. No skin dissection or separation of the sternum is required resulting in a shorter rehabilitation period.
Endovascular correction is performed through a small puncture measuring 2–5 mm in diameter made in the groin. A closing device called an occluder is installed into the septal defect; in case of aortic stenosis repair, a new valve is advanced through the catheter and placed above the stenotic valve. All surgical procedures are performed under local anesthesia so that patients remain conscious and may communicate with the surgeon.
Important! Endovascular treatment in MEDSI is provided only to adult patients.
You can ask questions and request an approximate cost, or make an appointment by calling +7 (495) 780-77-54.